Safety Pilot services
Maybe you're new to flying in Europe, or perhaps new to IFR, or maybe just a bit out of practice? Taking along a qualified and experienced safety pilot can increase your confidence, ease the pressure during a difficult trip, provide a pilot to lend a hand, offer help and advice and increase the safety margins for both you and your passengers.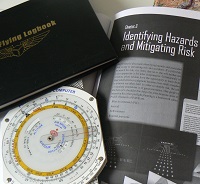 What can I expect from my Safety Pilot?
You'll have someone to discuss the route with, assist with flight planning, filing flight plans, GENDEC / GAR forms, fuel duty drawback etc. They'll hold charts, make sure you're doing the right checks, monitor instrument approaches, and, if required, can help with radio calls.
Imagine having an experienced friend along to bounce ideas off, direct questions to, and share some of the workload with. Gaining more confidence on an unfamliar aircraft, or in unfamiliar airspace is a boon to flight safety.
Naturally you can combine flying on the routes you want while completing some kind of further training, such as glass cockpit. The options are up to you. Maybe you'll have a busy day of meetings and don't feel up to single pilot night IFR. Whatever type of flying you do, and whatever type of aircraft you fly, you'll be in safe hands.



Whatever training you require we provide careful instruction in a friendly and professional manner. We can usually accommodate a location and timescale to suit you. Whatever you need we'll do our best to get it done for you.
Have questions or need more information?
If you have any questions please see the FAQs page. If your question is not answered there then please contact us.