Instrument Ratings and Proficiency Checks
The entire Instrument Rating from start to finish can be done here in the UK. All the ground and flight training, the written exams, and the flight test - all in the UK, and all while flying your own familiar aircraft. The rating can be easily converted to an EASA Instrument Rating by taking a flight test and without sitting extra written exams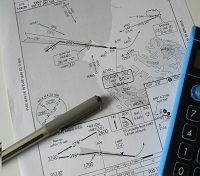 Full Instrument Rating
In brief a pilot wishing to aquire an instrument rating must:
1. Hold at least an FAA PPL (either standalone or 'piggyback').
2. Be able to read, write and speak English.
3. Have 50 hours of cross country time.
4. Have 40 hours of instrument time of which 15 are with a CFI-I
5. Have completed a 250nm cross counrty IFR flight.
6. Have passed the knowledge and flight tests.
Although the IR involves sustained effort and hard work we make it as easy as possible for you to succeed. We'll help with the ground study, be on hand to answer questions, make sure you're properly prepped for the flight test and, most importantly, make sure you're safe, ready and confident to fly IFR 'for real' in European airspace.
Conversions and Credit for Previous Experience
Credit for Previous Training
Started instrument training but didn't finish? We can in most cases count that training toward the IR requirements. Depending on the amount and timescale of previous training received, and of course your proficiency, we may be able to reduce the training time of the Instrument Rating course. This will be on an individual case-by-case basis.
Converting an EASA or other ICAO Instrument Rating to FAA IR
There are two methods of accomplishing the transfer. One is by taking a written exam (knowledge test) and having a piggyback IR on the basis of your EASA or ICAO IR, the other is placing your IR on a standalone FAA licence by taking the written exam and flight test. In these cases please contact us to talk through the pros and cons of each option and your specific requirements so we can advise you of the most effective route.
Upgrading a UK IMC Rating / EASA IR(Restricted) to FAA IR
The good news is that your previous instrument experience will count. In the best case, presuming you are already a reasonably proficient instrument pilot then the IR upgrade can be completed in as little as 15 hours flying training. However an IR is a significant step up in terms of both the knowledge required and instrument flying skill.
Instrument Proficiency Check (IPC)
We undertake an IPCs in your own aircraft at a time and place to suit you. Due to the high degree of skill required commensurate with the high level of safety expected of an instrument rated pilot, the IPC is quite in-depth and normally takes 5-6 hours. If you're out of practice then expect more than one trip / recurrency training before one of our instructors will certify an IPC. If you need an IPC then contact us and we can discuss your particular circumstance.


Whatever training you require we provide careful instruction in a friendly and professional manner. We are flexible, we can do intensive courses over a few days or weeks or just once a week at a pace and timescale to suit you. Whatever you have in mind we'll do our best to get it done for you. See FAQs page for more information.
Have questions or need more information?
If you have any questions please see the FAQs page. If your question is not answered there then please contact us.