Frequently Asked Questions
There seems to be a lot of misinformation regarding FAA licences and ratings and what is involved with obtaining and/or keeping them. We aim to put some of it straight here. This page is divided into the following sections:
FAA Aircraft in Europe
Why do people have US registered aircraft (N-reg) in Europe?
The main reason is the much simplified (and therefore cheaper) maintenance regime for private aircraft.
I fly an N-reg aircraft based in the UK? Do I need an FAA licence at all or can I just use my EASA licence?
If you remain in UK airspace you can use your UK issued EASA licence. If you leave UK airspace then you must be in possession of a valid US FAA licence.
Any other advantages with an FAA licence?
Yes. For example increased medical validity times for older pilots and the straightforward way of adding an instrument rating.
Is it legal to operate a US registered (N-reg) aircraft in the EU?
Yes, as long as the aircraft has the usual documentation (Registration and Airworthiness certificates, Radio Licence, and approved Aircraft Flight Manual).
Can I undertake flight training in my US N-reg aircraft?
Yes, all you need is permission from the CAA to undertake 'aerial work'. This costs £75 and is open to owners (and/or their pilots) enabling flight training to take place in the UK. The aircraft also requires insurance that covers training.
Licences and Ratings
What are the options for getting an FAA Private Pilot's Licence (or Private Pilot Certificate as it's properly called)?
There are two options. The first is an FAA licence based on an existing ICAO licence (often referred to as a 'piggyback' or 61.75 licence). The second is a standalone FAA Private Pilot Certificate.
How do I get an FAA 'piggyback' Private Pilot Certificate (Licence)?
You must have your licence validated by the UK CAA (or the ICAO entity that issued it) and then fill out an application to the FAA for a piggyback licence. When the FAA receive confirmation from the UK CAA that the licence is valid they will issue you a letter allowing you to go to the Flight Standards District Office you nominated on the form (or the FAA examiner in Europe) to issue the certificate. You should allow several weeks to complete the process.
How do I get an FAA standalone Private Pilot Certificate (Licence)?
You must meet the flight experiece required (including night flying) contained is 14 CFR 61.109 and in addition undertake a minimum of 3 hours flight training in preparation for the test with an authorised FAA instructor and pass the knowledge test ground exam. Once these requirements are met you may take the flight test with an FAA examiner.
Can I get a piggyback Commercial or ATPL?
No. Whatever grade of ICAO licence you hold you can only obtain a piggyback Private Pilot Certificate.
How do I get an FAA Commercial Certificate?
Take the written knowledge test and meet the experience requirements. Undertake a minimum of 3 hours training and take the flight test. A more detailed explanation is provided in the booklet produced by our partner company iflyfaa.
I want a piggyback FAA Private Certificate but in the past I've had a standalone FAA pilot certificate. Is that okay?
No. If you hold a standalone FAA certificate then you are not eligable for a 'piggyback' Private Pilot Certificate.
Is my old FAA paper licence / certificate still valid?
No. Paper licences ceased to be valid in 2010. You will need a new style plastic credit card size replacement.
I have an EASA / ICAO Instrument Rating. Can I add this to my piggyback?
Yes you can. You must take a written knowledge test and then it can be added to your piggyback licence. You will then be able to exercise full Instrument Rating privileges in a US registered (N-reg) aircraft.
I have a piggyback licence. Can I train and get an FAA Instrument Rating?
Yes. You need to have met the experience requirements and pass the written knowledge test and take the flight test. The Instrument Rating can then be added to your 'piggyback' licence. It will be marked on the licence as "Instrument - US Test Passed". If in the furture you upgrade to a standalone FAA licence then the Instrument Rating will carry over.
Can I use the hours gained on my UK IMC training toward the 40 hours of instrument time required for the FAA IR?
Yes. See the Instrument Rating page.
Security and Background Checks
What are the security checks I keep hearing about?
You are referring to the Alien Flight Student Program (AFSP) run by the US Transportation Security Administration (TSA). This registration and approval must be obtained before certain types of FAA flight training are undertaken.
Who needs TSA AFSP approval?
Any non-US citizen undergoing flight training toward gaining a licence or rating designated by the TSA as requiring approval to train.
What types of training require TSA AFSP approval?
The three light aircraft training events that require approval are:
1. An initial standalone FAA licence at any level
2. An initial FAA Instrument Rating
3. Initial multi-engine training.
So other flight training doesn't need TSA AFSP approval?
Correct. Currently only initial standalone FAA licence, initial Instrument Rating or initial Multi-Engine Rating require TSA AFSP approval. It is not required for Instrument Proficiency Checks, Flight Reviews, complex and high performance endorsements, glass cockpit training, checkouts etc.
Do I still need TSA AFSP approval if I own my own aircraft?
If it is for one of the training events listed above then yes you do, even if it's in your own aircraft.
Do I still need TSA AFSP approval if I'm British and/or training in Europe?
You do if it is for one of the training events listed above. The only people not requiring approval are US citizens or US legal residents. This applies wherever in the world training is conducted.
How do I obtain TSA AFSP approval?
Sign up for a new candidate account on the dedicated TSA AFSP website: www.flightschoolcandidates.gov
You will need your passport details. In a day or so you will receive your username and password and can log in, input the required information, upload scans of your passport and licences and apply for a training event with your chosen training provider. That provider then confirms the training request following which the candidate must pay the appropriate fee (currently 130 US Dollars). Then you will have to visit an approved fingerprint collector to have your fingerprints taken and a few days after that you will receive your permission to train. The site has a very clear application guide which spells out what to input at each stage.
Are you registered as a training provider with the TSA AFSP?
Yes. Each instructor is registered individually. This makes it much easier to match up instructor endorsements and TSA approvals on the day of the flight test. Please contact us before submitting a training request.
Can I start flight training while I am waiting for my TSA AFSP approval?
No. Training (even in a simulator) cannot start until approval is received. Groundschool training is permitted however.
Start to finish how long does the whole TSA AFSP approval process take?
If it is timed correctly it can take less than two weeks. This usually depends on how long the wait is to see the fingerprint collector. Allow four weeks to be on the safe side.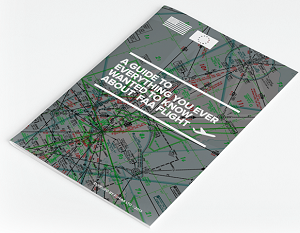 The answers to all of your questions!
An excellent concise guide to all the usual questions. Highly recommended if you are considering FAA training in Europe.
The guide covers each licence and rating in detail, together with currency and administrative actions required to get an FAA 'piggyback' Private Pilot Certificate.
Click on the link below to purchase and download.
Guide to FAA Training in Europe by iflyfaa



Whatever training you require we provide careful instruction in a friendly and professional manner. We can usually accommodate a location and timescale to suit you. Whatever you need we'll do our best to get it done for you.
Have questions or need more information?
If you cannot find the answer to your question above or you need further information then please contact us.